Millisa HENDERSON - GUITARIST
 Playing guitar since the age of 11, Millisa Henderson from Muskogee, Ok, has been a female rock phenom from the start.  Influenced by virtuosos such as Steve vai, John Petrucci, Nick Johnston, and more, she strives to give her audiences a live show they won't soon forget. 

     Millisa is currently a fourth-semester student at the prestigious Berklee College of Music in Boston, Ma, where she received the full-tuition Lollapalooza scholarship. This scholarship is given to one outstanding rock musician per year. she regularly gigs in the Greater boston area, She is planning a summer tour, and is currently writing and recording her debut album. Millisa's playing can be heard on the original cast album for "Victoria, A New Musical,: and will be featured on the soundtrack for "Dreamscape," and Darion Roberts' upcoming album. MIllisa Proudly endorses ERnie Ball, Walrus Audio, Strymon Engineering, Eno Pedals and Moxy GUitars.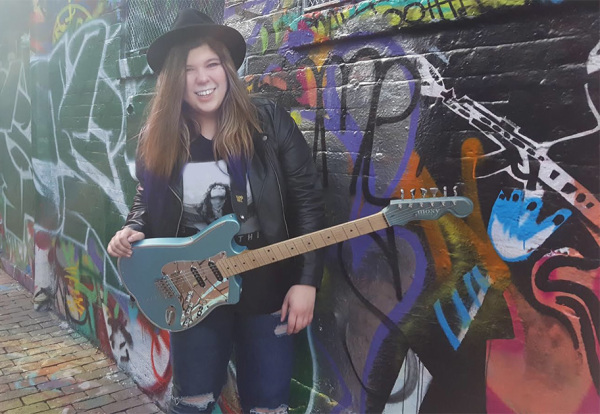 Millisa has performed at venues across the united States Inlcuding: 


The Berklee Performance Center              

The Burren                                              

GFEST

Festival of the Arts
​Hard Rock Cafe DAllas
Hard Rock Cafe Memphis

Loretta Lynn's Ranch

The Middle East

Oklahoma Jazz Hall of Fame
​Oklahoma .Music Hall of Fame

Tulsa Music Festival, 

WILSON CENTER FOR THE ARTS


​Muskogee, OK

Oklahoma City, OK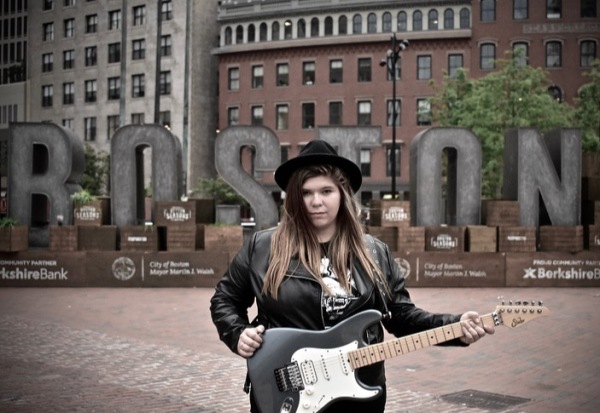 "Watch this video and you'll see why this young
woman is going to be a guitar goddess."
AT the prestigious Berklee College of Music in Boston, Ma, Millisa received a scholarship for and attended the week-long 2013 Guitar Sessions program. She performed as part of Ethan Brosh's Metal Ensemble. While there, she was invited to audition for and was awarded a full-tuition scholarship to Berklee's 2014 Five-Week Summer Performance Program.

At Five-Week in August 2014, she played in the World Blowout Ensemble. She auditioned for and was one of two guitarists selected for the All-Star Rock Ensemble, a top-level instrumental group. Both ensembles performed to a full-house at the Berklee Performance Center.

She received another scholarship for 2015 Five-Week and performed in the Funk Fusion Blowout Ensemble. Again, she auditioned for and was selected for the All-Star Rock Ensemble. Again, both ensembles played to a full-house at the Berklee Performance Center. During the program, she auditioned and was also awarded a $30,000.00 per year scholarship (total $120,000.00) for Berklee's four- year undergraduate music program.

Ultimately, Millisa was awarded the Berklee Lollapalooza Scholarship, a full tuition scholarship awarded to one outstanding rock musician every year. She began college at Berklee in September 2016. 

Queen of strings
 
Queen of Strings, an international competition for unendorsed guitarists and bassists, chose Millisa as second place guitar winner in their first annual competition on June 9, 2015.  The contest was judged by renowned professional women musicians.  These judges included Nik West, Orianthi, Jennifer Batten, and Kat Dyson.  Millisa was the only musician from the United States who placed from over 900 original entries around the world.
Floyd Rose chose Millisa as winner of their "Floyd Rose Signed Dive Bomber Guitar Giveaway Contest" on December 24, 2013, for her video entry covering Van Halen's "Eruption."  The contest promoted the Floyd Rose website, and her video is posted there
FACEBOOK
INSTAGRAM
TWITTER
YOUTUBE
SOUNDCLOUD

mjh.guitarist@gmail.com

(918)-351-9748

MILLISA HENDERSON - GUITARIST
millisa Henderson - Guitarist